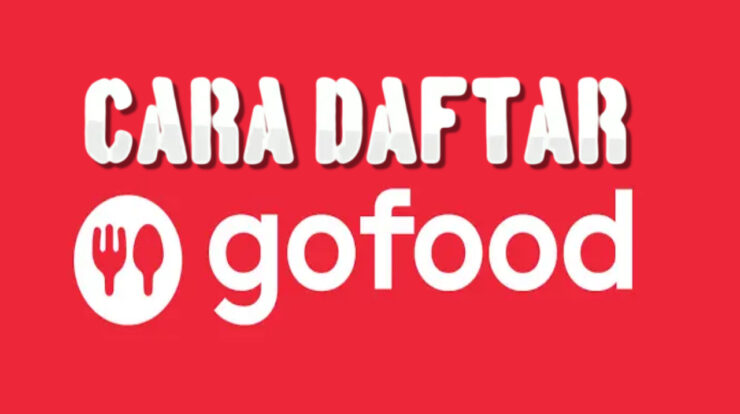 Quick steps How to register GoFood – GoFood is one of the services you can find in the Gojek app. GoFood Menu is a service commonly used to order drinks or food online. Of course, the ease of these services makes many people use them. So for restaurant owners, it is a good idea to know how to register with GoFood to grow your business.
This development makes it imperative for all people to keep up with the times, because if they don't, they will lose out and be left behind. Now, although it is based only on online orders, the turnover of a culinary business is no joke. Even with just a ghost kitchen, the benefits outweigh the big and well-known blessings.
Conditions for registering points of sale on GoFood
Before knowing how to register for GoFood, you must first know how and under what conditions to register for GoFood services. By registering food or beverage outlets with Go Food services, you must first meet the requirements.
So that it is easy to record the outlet. Previously, you must register with the appropriate type of business. The conditions are as below.
1. Privately owned business type
For a private business, this is a type of business whose property is owned by an individual. Make sure the business has not previously been registered with GoBiz. The requirements for registering this type of business are as follows.
1) For business, it is an active point of sale, of course, that sells drinks or food. For example, shops, cafes, home industries, restaurants or others.
2) Have an active email and also include the mobile number of the business owner.
3) To have a complete address, of course, accompanied by the telephone number of the point of sale.
4) Include the business owner's ID card.
5) Have and include the business owner's account number. This is for disbursement of funds when there are buyers doing digital transactions for payments.
6) Have a NPWP, this applies to businesses that have PB1 that is already taxed for the restaurant.
7) To have supporting documents. These documents include savings books and e-banking. If the account owner and the business owner are different people, they must include a checking account.
2. Type of business held by the company
For the type of business owned by the company, it is a business that is not owned by an individual. The nature of the business is that the mother has a legal entity. For this type of business it is included in the category of Corporate GoFood business partners. The requirements for registering this type of company are as follows.
1) The business is in the form of an active outlet which, of course, sells both food and beverages. For example, such as cafes, shops, restaurants, home industries and others.
2) Have an active email and also a mobile number from a representative or director who has been appointed by the company.
3) Have a complete address and the point of sale has a telephone number
4) The director of the company has an identity card or is an Indonesian citizen. Meanwhile, if you are a foreigner or a foreign national, you must have a PASSPORT.
5) Execute a power of attorney that has been signed by the director. If the registration is done by a representative, it must include an identity card or a PASSPORT from the representative who has been appointed.
6) Have documents related to business licenses, be it NIB or SIUP or TDUP or TDY.
7) The documents must be in accordance with the 2007 deed of incorporation or based on the latest amendments.
8) Have an account number as a means of payment of funds when conducting digital transactions.
9) The company must have an NPWP for the purpose of paying taxes in accordance with the regulations
10) To have supporting documents. For example, savings cards and e-banking. If the account holder name is different from the company name, it must include a checking account.
How to register GoFood for food business
Once you know about the Go Food registration conditions, get ready to register immediately. Here's how to easily register GoFood.
The first way to register with GoFood is to first download the "Go Biz" app. Go to the Play Store to download the app, then select the "Register GoBiz" option.
The next step to register with GoFood is to register by choosing a business according to the type of business described above. It is a sole proprietorship type of business or a company owned business type.
Fill in the requested data. The data is data from the square or user data. If it is an individual it means the data, while if it belongs to the company it means data from the director or his deputy. If all the data is correct, then select the "Send User/Owner Data" menu.
Go Food registration continues by filling in your email and mobile phone number in the required fields. This is useful as a tool to receive messages related to the registration process. In addition, it is also a tool to enter GoBiz.
In addition, it is also used to receive both revenue and validation reports on changes that may occur. For example, changes to account data, personal data or other data.
The next way to register with GoFood is to enter the OTP code. This OTP code will be sent via SMS to the previously registered mobile number. If you have entered the OTP, click on "Confirm".
The next step is to fill in the company data. Fill it according to the type of business you have chosen previously.
If the details have been filled, how to register with Go Food, then check the column that says "Learn Terms and Conditions". Then continue by clicking "Check my company details". Then select the "Submit" option.
The data you submitted will be verified by GoFood in approximately 48 hours.
If the verification process is successful, the next step is to activate your GoFood service. Complete data like restaurant profile, menu list and also opening hours of the outlet.
You should check your email or GoBiz app periodically. This is so you know what the next steps should be. The registration fee for GoFood is free, meaning free, so there is no fee.
GoFood currently imposes a service fee on all transactions. For Jabodetabek area, an additional fee of 20 percent will be charged, then IDR 1,000 will be added for each transaction. As for areas outside Jabodetabek, a 20% tax and an additional 800 rupees will be charged.
About GoBiz
It was explained above that GoFood is a service contained in the Gojek application. What service is used to find or order food online.
Now, for GoBiz itself, it is an app that is the partner of Go Food. Which GoBiz is used to manage the operations of restaurants or food places in GoFood.
Thus, if there is an order from a customer, it will automatically enter the Gojek app. Afterwards, the Gojek driver will pick up and deliver the order.
This app is also equipped with a restaurant opening and closing status function. Thus, business owners who collaborate with GoFood will be more flexible in regulating the opening and closing hours of restaurants.
In addition, there is also a menu availability feature. This also makes it easier for business owners to manage which menus are available or out of stock.
The full features available on GoFood make anyone with a business, especially a food business, sure to compete for registration. Learn and follow the steps above if you want to know how to register GoFood easily. On the other hand, in addition to the number of Gojek with you using these functions, your business will be more in demand.
Also Read: 5 Ways To Top Up GoPay Via BTN Mobile, How's This?
This is how you register with GoFood, for those of you food business owners who haven't joined Go Food partners, register now. Besides being a marketing promotion for the business, of course it will also add customers. So not only from offline but also from online customers.


Post Views:
4